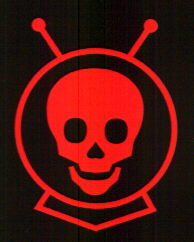 News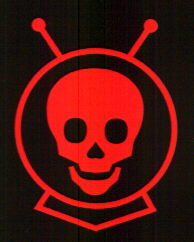 May 12, 2001
ALBUM NEWS: The album is finished! It took four months to complete and it was produced by Terry Date, but in the last minute POWERMAN 5000 brought back Ulrich Wild (producer of some tracks on Tonight The Stars Revolt!) to produce a final song (Mixed by Andy Wallace). PM5K guarantee that the new disc wont leave your cd player all year!
ALBUM SINGLE: The first signle is called BOMBSHELL and it will start to be aired in radios in mid June. This track is said to be extremely good!
MERCHANDISE: PM5K are planning to entretain us with a bit more than music, they are producing lots of new merchandise including toys!
---
March 29, 2001
WEBSITE: Once again hello. As everyone might have noticed, this site wasnt updated for over 4 months! I know that's a lot but i encountered a series of problem like my mid-year exams and my trial version of CuteFTP expiring. Finally i can update the site again. But i think you'll feel my abcence soon because i'm 5 weeks away from my end of year exams. I'll try to do my best. It surprises me that in merely 6 months over 2700 people visited my site, this is amazing!
ITALIAN VERSION: As you may have heard, around November 2000 i was talking about an Iitalian version for this site. Well i'm sorry to dissapoint you but there will be no Italian version. I've taken this decition because the English and Spanish versions already take a lot of time and because my Italian is not good enough to make a website.
HOME VIDEO: For the ones that do not know, POWERMAN 5000 has released their home video "BACKSTAGE AND BEYOND THE INFINITE". As said before, this home video features every PM5K video, live performances, backstage stuff, extremely rare fottage from POWERMAN 5000's early days and some never before seen MC SPIDER video clips.
TABS ADDED: I just added the bass tab for Organizized. Also added the guitar tabs for Good Times Roll, The Son Of X-51 and Ultra Mega. Finally i have founf drum tabs! i added the tabs for When Worlds Collide and Nobody's Real.
---
December 14, 2000
The Dracula 2000 soundtrack has come out! Ultra Mega is a fantastic song, fast and agressive. Make sure you get a hold of this song!
---
December 3, 2000
The soundtrack for the upcoming movie "DRACULA 2000" will be out in December 12! Remeber that this soundtrack will include a brand new POWERMAN 5000 song entitled ULTRA MEGA!!
---
November 22, 2000
TABS ADDED! I just put the bass tabs for Automatic, Nobody's Real, Operate Annihilate, Standing 8 and When Worlds Collide.
---
November 21, 2000
Sorry, in the last three weeks i wasn't able to update this site due to after school exams and loads of school work. In a few days i will ADD NEW BASS TABS to the tabs section. Hopefully by the beginning of December the Italian Version of the site will start to take shape. Keep coming back!
---
October 26, 2000
Many great news for today!!!
SPIDER ONE STARTS HIS OWN RECORD LABEL: This can't be more real than reality itself! Spider One has alunched his own record company, MEGATRONIC RECORDS, of PM5K's official label DreamWorks Records. "The philosophy behind my label is simple: find great bands who make great music, and give them the opportunity to be heard......I'm interested in signing all kinds of music, not only bands in the PM5K style. Beign on the road, i get demos all the time from bands that can't get the attention of major labels. Now I have the chance to hook up bands that I like." Said Spider. MEGATRONIC is gearing up for it's first release coming April 2001, from a band called HALFCOCKED. This band is originally from Boston but is now living in Los Angeles. HALFCOCKED is a group composed of 3 girls and 2 guys who's music is goign to kick ass. If you want more information on the band you can check out their website at www.halfcocked.com. Also, in the near future, Spider One will be accepting demos.
PM5K HOME VIDEO: POWERMAN 5000's home video will be out in February 2001! The home video is entitled "BACKSTAGE AND BEYOND THE INFINITE". As promised, the video will feature the winners of the "TONIGHT THE FANS REVOLT" contest. The winners of this conteste will be announced soon on www.powerman5000.com. The video will feature every PM5K video, live performances, backstage stuff, extremely rare fottage from POWERMAN 5000's early days and some never before seen MC SPIDER video clips. The video will be available on VHS and DVD.
MORE SOUNDTRACKS FEATURING PM5K: "DRACULA 2000", a new horror flick by Wes Craven (which is out this December) will feature a hot soundtrack icluding one brand new song by POWERMAN 5000 entitled "ULTRA MEGA", as well as new music by PANTERA, STATIC-X, MARILYN MANSON, SLAYER, SYSTEM OF A DOWN, DISTURBED, MONSTER MAGNET and others. But the best thing is that "ULTRA MEGA" has been chosen to be the the lead-off single and video! So look for the soundtrack and new video (which will be directed by SPIDER ONE) comming next month!
POWERMAN 5000'S UPCOMING ALBUM: It is not a rumor anymore! PM5K has begun writing new music for the new album! They enlisted TERRY DATE (LIMP BIZKIT, WHITE ZOMBIE, PANTERA, DEFTONES) to produce the next PM5K masterpiece. They will go into the recording studio in January with a scheduled release date of June 2001. "The next album will be bigger, stronger, faster and meaner than TONIGHT THE STARS REVOLT!" promises Spider One. ALTERNATIVE PRESS has chosen the upcomming release as one of the "25 Most Anticipated Albums of 2001"
PM5K ROCK JAPAN AND HAWAII: After touring the US and Europe, POWERMAN 5000 ended their live assault with a three city tour in Japan, and one great show in Hawaii. The Tokyo, Osaka, Nagoya and Honolulu shows were all a huge succes and PM5K is thankful for that.
---
October 23, 2000
The English version if 100% complete now! I just finished updating the Compilations link on the Discography category. It was the only bit to finish on the English version.
---
October 21, 2000
In about a month i'll start working on the Italian version of the site. Until then you can surf the English version or the almost complete Spanish version.
---
October 16, 2000
It is said that PM5K's fifth album will be released around May 2001.
---
October 12, 2000
Today this site is born! I thank my friend and "technical support" dude, Mathijs Van den Bergh because without him this site wouldn't be here!
---